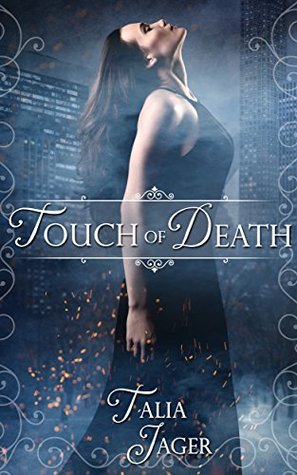 Book: Touch of Death
Author: Talia Jager
Publisher: Talia Jager
Rating: 5 Stars
Level: New Adult
Source: e-book Review Copy
Summary from Goodreads:
Anika had been born into a supernatural family. She had grown up knowing one day she'd be a fully matured succubus—a demon who literally sucked the life from men—something she didn't look forward to. And now the day had arrived and she had to accept her destiny. Not only did she have to learn what was expected of her, but she also had to join her family as part of The Siren—a paranormal law enforcement agency. Her future had always been clearly defined until suddenly she finds her life in disarray when she falls in love with a human, Zak. She struggles to be with him, but her powers are deadly to even the one she loves.
Well I am going to start off by saying WOW! Yeah this is the kind of book that I love to read and why I love fantasy. Touch of Death is a great read. The author just brings such energy and life to these characters.

Anika and her twin sister Aria are turning 18. Well for most of us it means becoming an adult. For these sisters it means that they will become full succubus. When you are a succubus you become immortal. You don't age, don't get sick, etc. but you can be killed, it's just harder to do. You can fall asleep whenever you want and go into the dream realm. This is where they get their energy. They feed off of humans by kissing them while they are dreaming. They can also have sex with them which gives them even more energy. They need energy from humans or they become weak. But there is a downfall that Anika doesn' like, all the attention from guys. All the guys around them can't keep their eyes off them and it's because they are succubus.

Aria is very excited and happy to turn 18. She is a big flirt and can't wait to learn more and just have fun. Anika on the other hand is a bit more nervous and not all that excited. Once they become full succubus they will also join their parents and grandparents in The Siren, a paranormal law enforcement agency. Things don't start off too good for the twins though. They don't seem to follow the rules that their parents set for them.

Anika and Aria are very powerful and don't always realize their power and sometimes are not able to stop feeding. The girls also need to keep that they are succubus a secret from their friends. Then there is the whole dating thing. Aria quickly finds a nice incubi, a male succubus named Hudson in the dream realm. They start dating and things seem to go good for them. Anika on the other hand falls in love with a human named Zak. He is also her best friends Paisley's cousin. While it takes a while for Anika to finally agree to go out with Zak things are difficult for them. Anika could potentially kill Zak with just one kiss. If that's not enough, there are succubus that want to hurt and kill the twins. Oh yeah and Anika knows there is something off about her best friends Paisley and Kora's boyfriends. She is pretty sure they are supernatural but doesn't know for sure or what they are.

I have read other books from this author in the past so when I got a chance to read this I jumped on it. I LOVED it and was wanted more when it ended. It has so much that I love in a good book, romance, action, suspense, supernatural, fun, exciting and the list could go on. This is a must read book if you enjoy reading fantasy. The author leaves it open for this to become a trilogy or series. I am really hoping that there are more books in the works for these characters. Oh I could keep going on and on about how much I enjoyed reading this book. But now it's your turn to enjoy this amazing and fun book. I highly recommend that you purchase a copy, you will not be disappointed. This e-book was provided to me for review. This did not affect my review in any way.