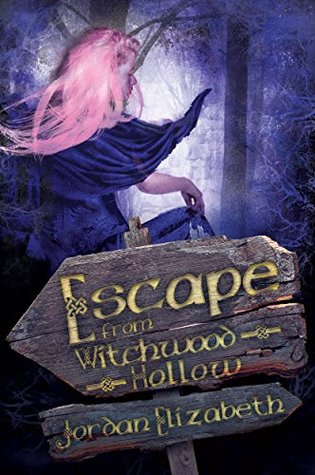 Book: Escape from Witchwood Hollow
Author: Jordan Elizabeth
Publisher: Curiosity Quills Press
Rating: 5 Stars
Level: Young Adult
Source: e-book Review Copy
Summary from Goodreads:
Everyone in Arnn - a small farming town with more legends than residents - knows the story of Witchwood Hollow: if you venture into the whispering forest, the witch will trap your soul among the shadowed trees.

After losing her parents in a horrific terrorist attack on the Twin Towers, fifteen-year-old Honoria and her older brother escape New York City to Arnn. In the lure of that perpetual darkness, Honoria finds hope, when she should be afraid.

Perhaps the witch can reunite her with her lost parents. Awakening the witch, however, brings more than salvation from mourning, for Honoria discovers a past of missing children and broken promises.

To save the citizens of Arnn from becoming the witch's next victims, she must find the truth behind the woman's madness.

How deep into Witchwood Hollow does Honoria dare venture?
My Review:
Escape from Witchwood Hollow is a must read! The author had me hooked and was reeling me in right from the beginning.

Honoria and her brother move to Arnn from New York City with their aunt and uncle after their parents are killed. She is told right from the start about the legend of Witchwood Hollow. If you venture too far into the forest the witch will trap your soul. She is intrigued right from the start and does all she can to find out more about Witchwood Hollow.

The story follows three girls, Honoria, Albertine and Lady Clifford who are from different time periods, as their stories are told. The characters are all very likable and I enjoyed learning about their backgrounds and how they each are a part of Witchwood Hollow. There are lots of twists and turns that lead up to an exciting and surprising ending. I will be on the lookout for other books from this author in the future. The e-book was provided to me for review. This did not affect my review in any way.