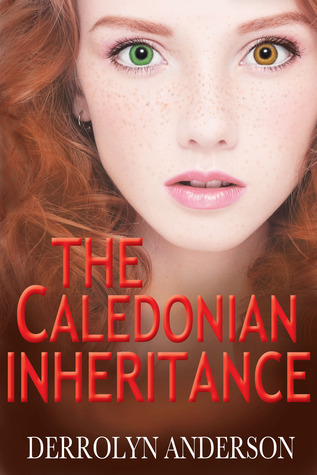 Book: The Caledonian Inheritance (The Athena Effect #3)
Author: Derrolyn Anderson
Publisher: Derrolyn Anderson
Rating: 5 Stars
Level: Young Adult
Source: e-book Review Copy
Summary from Goodreads:
After a winter spent in a tropical paradise, Cali and Layla are ready to put all of the drama behind them and find some meaning in life. Along with Calvin and Michael, they return to their remote property, only to discover more troubles hidden away in the bucolic wilderness.

The two Cals settle in happily, but Layla and Michael struggle with their sense of identity, each one seeking out a different coping mechanism. Just when things are starting to look up, Layla's need to recreate the past leads her back to a dangerous place, opening the door for for evil to return.

Will Layla's foolish mistake jeopardize everyone's newfound happiness?
My Review:
First off I have to say that this series just keeps getting better with each installment.

The Caledonian Inheritance focuses mainly on Layla. We get some interaction with the others but the story is centered around Layla and what is going on with her. It was nice to learn more about her.

All four, Caledonia, Calvin, Michael and Layla are living in a house together while they make plans to build a big house on their property where their parents lived. In the previous books I had mixed feelings about Layla. I didn't like the way that she manipulated people all the time. But at the same time I felt bad for her with her upbringing and all. In this book though she has really started to come into her own. She is living life and has a great new boyfriend, Ramon. I am happy with this because when the last book ended I was hoping that they would end up together. He is a great guy and a police officer in the town where Layla now lives. I found myself laughing at times when they are out somewhere. Things that are so common to Ramon like going to a fast food drive-thru are all new to Layla.

Things are going great for Layla until she decides that she wants to see if she can find out who her father is. The one person that she thinks would know is Professor Reed. All he seems to do is cause more problems for Layla and her family and will do whatever it takes to finance his crazy projects. When he sets up a meeting with Layla this is where things go from bad to worse. Will Layla ever be able to get away from the Professor? What will happen when Ramon finds out about her powers? There is so much more great things that happen but I'm not going to give away any more.

This is a great series that I highly recommend reading. I can't wait to start reading the final installment, The Redcastle Redemption. This e-book was provided to me for review. This did not affect my review in any way.