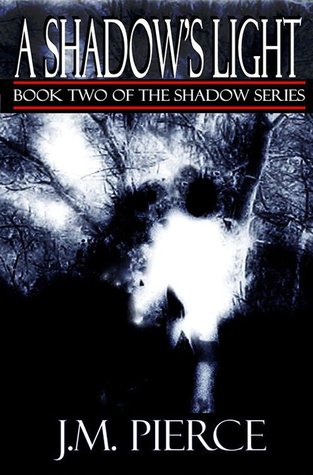 Book: A Shadow's Light (The Shadow Series #2)
Author: J.M. Pierce
Publisher: J.M. Pierce
Rating: 4 Stars
Level: Young Adult
Source: e-book Review Copy
Summary from Goodreads:
After fleeing his home in Lincoln, Test Davis settles in the small town of Saratoga, Wyoming, where he hopes to slip into obscurity. But when his boss's niece, Alyssa, draws him reluctantly into a relationship, he's afraid he won't be able to hide who—and what—he really is.

When a horrific confrontation with two co-workers forces Test to go back on the run, he reunites with an old friend, discovers that Alyssa has a secret of her own, and finds the answer to the question he's been too afraid to ask:

What am I?
A Shadow's Light is a great sequel that I thoroughly enjoyed.

Test Davis has found a new life in the small town of Saratoga, Wyoming. He has a job and now goes by the name Chance Johnston. Things are going fine until he begins a relationship with the boss's niece Alyssa. She has a secret of her own, she can see and talk to the dead. When some of his co-workers start causing problems for him Test has a hard time controlling his powers. This is when things go from bad to worse. Test and Alyssa are on the run and this time it's not just from the authorities. There are other worldly beings out to destroy them.

While there are some similarities to the plot from the first book the author has brought so much more to this story. Test himself has grown as a great character and I really like Alyssa. We also get to enjoy some favorites from Failing Test. Cliff is such a great character and friend to Test even now with his current situation.

There is lots of action and suspense and some romance in the mix. I enjoyed the ending and am looking forward to finding out what happens next. This e-book was provided to me by the author for review. This did not affect my review in any way.